Evaluation of the outcomes of endodontic treatment applications performed by undergraduate students during dental education
Keywords:
Education, Endodontic treatment, Follow-up, Periapical index, Radiographic outcomes
Abstract
Objectives: Assessing the outcomes of endodontic treatments performed by undergraduate students is important for providing better treatments and improving the education. This study aimed to assess the radiographic outcomes of endodontic treatments performed by undergraduate students over a follow-up period of 24-52 months.
Materials and Methods: Endodontic treatments performed by undergraduate students between January 2020 and May 2021 were retrospectively evaluated. Patients who underwent root canal treatment and had at least 2 years of follow-up radiography after the initial treatment were included. The presence of lesions was recorded, and subsequent treatment procedures performed on the same tooth were also documented. The Jamovi program was used for statistical analysis.
Results: Out of 464 teeth, 104 (22.4%) were included in the study. The average time interval for patients returning for follow-up visits at the dental faculty was 35±6.79 months. Mandibular molar teeth were the most frequently treated, while mandibular anterior teeth received the least treatment. A significant decrease in PAI scores was observed for teeth treated by fourth-year students (p<0.05), while no significant difference was found for teeth treated by fifth-year students (p>0.05). Tooth extraction was the most common secondary procedure performed (12%). 
Conclusion: Academic term, tooth group, and presence of crowns were identified as influential prognostic factors for endodontic treatment outcomes. Fourth-year students tend to have higher success rates than fifth-year students. This may be due to the fact that the dental cases treated in fourth year are usually less complex, mainly involving anterior and premolar teeth.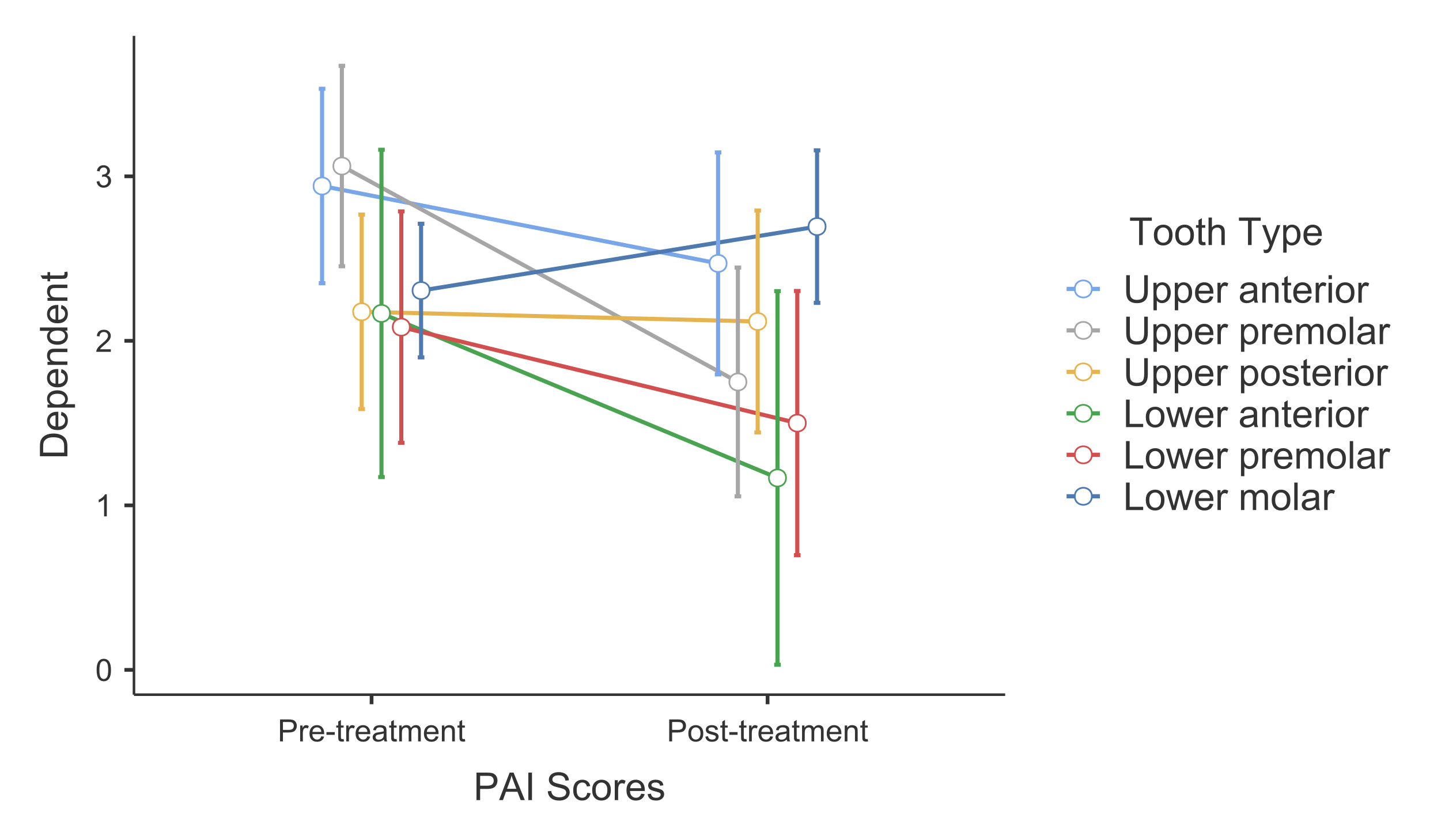 Downloads
How to Cite
(1)
Maraş, E. Evaluation of the Outcomes of Endodontic Treatment Applications Performed by Undergraduate Students During Dental Education. J Endod Restor Dent 2023, 1, 21-26.
License
Copyright (c) 2023 Journal of Endodontics and Restorative Dentistry
This work is licensed under a Creative Commons Attribution-NonCommercial 4.0 International License.
CC Attribution-NonCommercial 4.0